Hello all -
For this edition of Beauty and the Best, I wanted to focus on all the lotions, potions, and creams out there for the face.
As I mentioned before, the key to any good make up look is great skin. You have to have a flawless canvas on which to apply your colors and here are a few products that will help you get there.
bareVitamins Skin Rev-er Upper by Bare Escentuals
- $21.00
This little bottle = amazeballs. Totally worth the $$$. Started using this lightweight miracle lotion about two years back and since incorporating it into my daily skincare routine, my skin as been clearer and healthier looking. This multi-vitamin lotion with glycolic and salicylic acid is a godsend for those with oiler skin like mine and it doesn't feel heavy. A little goes along way - just three squirts twice a day. I even managed to convince my mom to starting using it!
Oil of Olay Complete All Day UV Moisture Cream
I wear lotion with SPF every day - even in the cold, dark New England winter. Even though I have dark hair, I have fair skin with alot of
adorable freckles
so I want to keep my skin as protected as possible. I like this one since it is moisturizing without feeling like you are spackling it on your face.
bareVitamins Prime Time Products
- $21.00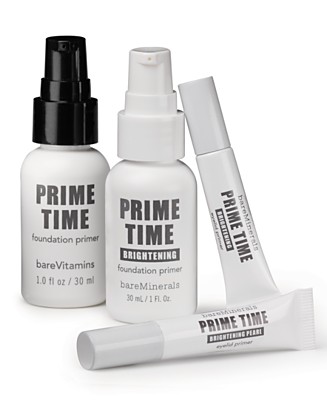 This product is a must for anyone who wants their "face" to last. This satin-finish formula goes on smooth and leaves the skin primed for makeup application. It makes makeup stay on longer since it controls oil, which causes your look to fade. Apply a little to your eyelids to help shadows stay on longer. Great to use over moisturizer but under make-up for events like weddings or proms, any events where you don't want to spend all night running to the bathroom to re-apply.
What's your favorite go-to product for your face? What's your skin type and what products to you like the best?